Today, I'm going to show you how I created a XAP file lister like the one I did in plain old AJAX a few years back. Before we begin, you need to know how to create a functioning Hello World application in XAP, and how to display a list of files in PHP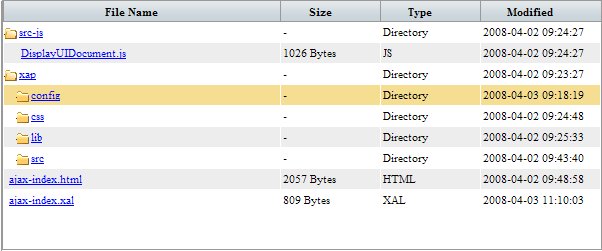 Looks pretty spiffy, right? It's surprisingly simple to code, too. All I needed was to rewrite some php-generated XML into XAL and a few lines of javascript.
For the past two years I've been working on the Apache Incubator XAP project. We're preparing to release version 0.5.0 at the time of my writing this, and I strongly encourage you to check it out.
XAP is a javascript framework which uses XAL (the eXtensible Application Language) to create ajax rich internet applications with minimal javascript. This is done through it's library of dynamic widgets (such as tables with selectable and expandable rows and sortable columns), and the use of the XAL language, which has XModify, databinding, and data requests to perform a lot of the kludge operations so the developer can focus on core appication functionality. Many of the widgets used are ported in from the Dojo toolkit.
Today, I'm going to show you how to set up XAP on your own server so that you can start working with XAL and create your own XAP applications.
I've updated my portfolio to include some of my projects over the past few years.
iGlue - 03/23/2008
A few months back I began work with a coworker on a place-centric social networking site, where one could meet people through places they liked to go. We didn't get very far due to a lack of free time, but I did design what I thought was a dandy-looking interface.
So, I haven't been the most active with posting new content to this site. My job has kept me busy and face it, there haven't been throngs of people hitting F5 to see what my next post here will be. I have been working on various projects, though, mostly proofs of concepts and demo applications for Nexaweb. Additionally, with the experience I've gained from Robo-Rally, I've started on a new, simpler game that is much more realistic for one person to tackle during travel time.
Have a look at Lost Cities